10ply Mustard Pure Wool (worsted weight) MOVED TO A NEW HOME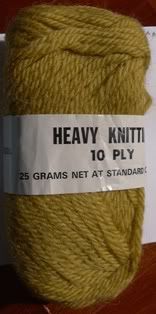 I have here a pack of 16 balls of mustard coloured wool. 12 balls have labels and the other 4 have lost their labels. I don't think any has been used. I certainly haven't used any of it. It is as it arrived when I bought it. Each ball weighs 25g.
The wool is not shrink-proof or moth-proof and I think it will probably be suitable for felting (fulling) projects. It's quite a soft wool and would also make a good jumper or blanket.
I am selling the whole lot for AU$10+ postage