Citrus 200g (1 hanks) SOLD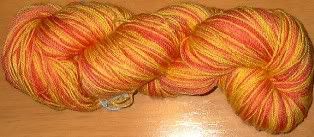 Both skeins are from the same dyelot abut are slightly different as they were hand-painted. The colours consist of yellows, oranges and some flashes of pinky-orange.
One skein is 5ply (sport weight) and
one skein is 8ply (DK)
(SOLD). Both skeins are commercially spun pure wool yarn.
This can be purchased at
Etsy