Crafty and Holiday - Mixed colours SOLD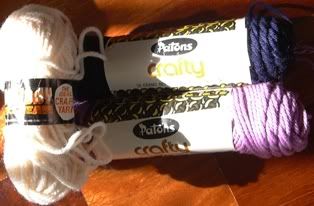 I have 6 full skeins of navy blue Crafty, 1 full skein of purple/violet Crafty and 3 full skeins of white/cream Holiday.
The yarn is thick heavy worsted acrylic (12ply or thicker). It would make a good rug or some similar item that will go through rough wear. The Crafty skeins are 50g each and the Holiday skeins are 25g each.
I am selling this lot for AU$15 + postage.